As an Engineer at Harley Davidson, 61 year old Paul Horanoff spends his days designing and building superior products. When he began running seven years ago, he applied the same principles to training for competitive runs. He approached his preparation for events by first developing a plan and using various resources to ensure that he was able to implement the plan and forge ahead with meeting his goals.
Paul, who is a Hartford, WI resident, began competing in the Wisconsin Senior Olympics two years ago. In both 2015 and 2016, he won his age group (60-64) in two very different events……the 5K run and the 1500m race. His performance in 2016's Olympian 5k run was sublime, he broke his own 2015 WSO record by one minute! We can't wait to see what the future looks like for him. Check it out:
Now he looks ahead to competing in the 2017 National Senior Games to be held in Birmingham, Alabama. "I trained hard for this event and am just going to maintain for now. I will train up again for Nationals and try to represent Wisconsin well." In the meantime, Paul keeps busy with work, his wife and three boys and enjoys travel, biking, fishing and restoring old cars.
At age 55, Paul was working out fairly regularly at the fitness facility within the Harley Davidson offices. The trainers spotted him running on the treadmill and asked him if he would join them in a 5k run as part of a corporate challenge team. He agreed and although he completed the race, he realized that he would need to implement a training regime if he was going to attempt more races. He is quick to give credit to the "teams" he trains with through local running clubs. In addition, he works specifically with a coach for sprint track work (Jeff Crosby) and another coach for distance work (Mike Vernon). As he became more comfortable with running, a competitive attitude emerged. Participating in the 2014 Chicago Marathon, he quailified for and ran in the prestigious Boston Marathon.
When asked what advice he has for others just beginning to train for running, he reiterates how important it is to develop a plan and stick with it. Equally important to him is the opportunity to train with friends or teammates. "Everyone has good days and bad days when training and having a training partner(s) will allow you to motivate each other."
For this month, we have a twist on our Athlete of the Month article. As our Gold Level Sponsor, UnitedHealthcare coordinated a significant media campaign with several of our athletes. So for this month and next month, we'll be sharing a video of our athletes of the month produced by UnitedHealthcare's team.
Eliot Strickon - Our August 2016 Athlete of the Month
Story made possible by United Healthcare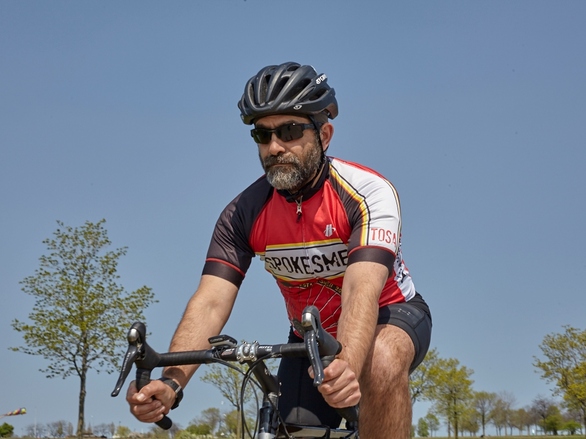 Fifty-one-year-old Eliot Strickon, a retired educator, competed in the 2015 Wisconsin Senior Olympics last year on the same day he'd dropped off his youngest son for the first day of second grade. He's in the "sandwich generation" phase of life with a mother age 86 and three children at home. For Eliot, cycling is a passion that's about more than fitness or competition, it's about showing the next generation how to stay engaged in your health, regardless of age.
At our games last year, he found himself one of the youngest cyclists in his age group and was glad to be racing against his peer group. "It feels like a better way to measure my performance and goals," said Strickon. "The race felt different, with less crowding one another out or risky behavior, and more satisfaction among the cyclists who didn't win." He added, "We were just glad to be racing."
Strickon began cycling and competing at age 16, and continued through college. Through the various stages of life, his time and ability to focus on training have ebbed and flowed. To stay in shape, he's often used his bike to commute to and from work or to transport his three boys to and from school or activities. He's also seen his racing style shift over the years, employing more strategy and psychology than years ago.
Strickon served as an educator for 25 years and recently retired. He also served on various boards and regularly volunteers. His passion for cycling extends into his involvement in his community, including work for the Wisconsin Bike Federation, as well as Mass Bike in Boston, Massachusetts.
To get to know other cyclists in the community and make training more enjoyable, Strickon participates in a cycling group in Milwaukee. He noted that Wisconsin Senior Olympics' gold sponsor, UnitedHealthcare has a professional cycling team, and one of the team's athletes hails from Wauwatosa. The UnitedHealthcare cyclist's father is a fellow member of Strickon's cycling group, and the group goes to cheer for the UnitedHealthcare team when they can.
Strickon enjoys cycling races and rides because, like many athletes, the events push him to set goals and train to achieve them. The longest ride he's ever completed, just this spring, was the 160-mile "Bone Ride". This annual event completed this adventure in 9 hours with his local cycling group and about 200 other cyclists.
Looking ahead, Strickon is seeing the benefits of cycling and fitness in his life and he's grateful for the ability to go hiking and biking with his teen and pre-teen sons.
---
Karen Jerg - Our July 2016 Athlete of the Month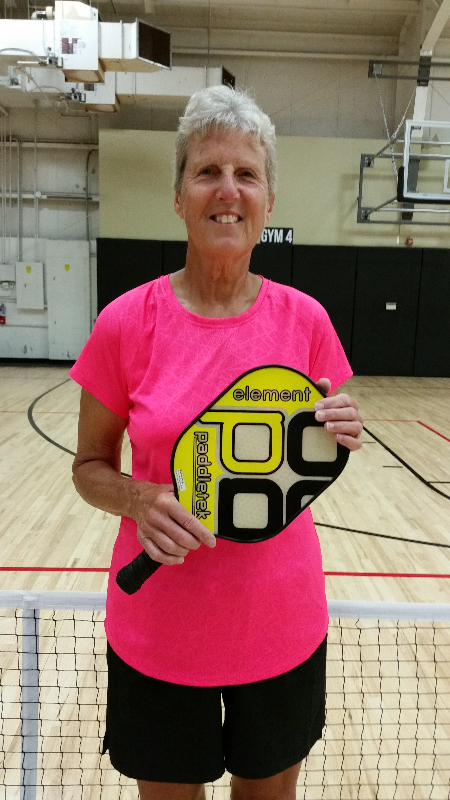 Have you heard? Pickleball is the fastest growing sport in the US! It is a sport for all ages and has taken the senior population by storm. Pickleball is a racket sport, played with a wiffle ball that combines aspects of tennis, badminton and table tennis. It is ideal for seniors given that the courts is 1/3 the size of a traditional tennis courts and the ball moves at a slower velocity. The sport can adopt many forms from fierce competition to casual, social interactive play.
For Karen Jerg, of Sun Prairie, pickleball is beyond a social sport and her inner competitive drive takes her onto the court to win. Karen, growing up in Greenfield, a suburb of Milwaukee, has been active in sports all of her life. In junior high she played CYO volleyball and softball. In high school she participated for four years in the Girls Athletic Association (GAA) and through various venues in the Milwaukee area played softball, volleyball, basketball, field hockey, tennis, badminton and bowling. In college she was on the Varsity Tennis and Bowling teams, as well as played intramural sports. In the early years of her teaching career, Karen coached tennis, gymnastics, track and field, volleyball and bowling.
At the age of 67, Karen continues to play and compete in volleyball, badminton and pickleball in the Wisconsin Senior Olympics, the Wisconsin Senior Games, the National Senior Games, the Huntsman World Senior Games, the USA Volleyball Nationals, the US Senior Badminton Nationals and the Badger State Games. Her involvement with WSO began in 2002 as a volleyball and badminton player. Amazingly, 5 of the women she began playing volleyball with in 2002 are still competing together on the same team. She and her teammates have participated in each National Senior Games since 2003 in Virginia Beach and fondly recalls memories of those games, as well as subsequent nationals. She and her teammates compete with drive and determination but also take time to have fun and enjoy the cities and venues they visit.
Karen has been instrumental in volunteering her time and knowledge to promote pickleball in her community by helping organize and teach this new and upcoming sport. Beginning in 2011, she and a small group of fellow players worked with the city of Sun Prairie to successfully construct two dedicated outdoor pickleball courts in a city park. The courts opened late summer of 2014 for the entire community and area to enjoy. Leagues, clinics, pickleball exhibition and social play time have kept the courts busy. "The game of pickleball is not only for the senior population but it is also being taught in the school setting. Everyone who plays it becomes addicted to it."
Karen is preparing for the 2016 WSO games which begin in August. She is hopeful to qualify for the 2017 National Senior Games that will be held in Brimingham, Alabama. She states, "I enjoy participating at the national level. It is a great time to see other participants who I have become friends with over the years. I am motivated and inspired by athletes who are in their 90's and are still competing. They walk so proudly with their medals on. I always make it a point to congratulate them on their accomplishments." As a multi-sport athlete for many years, Karen embodies the WSO motto... Competition for fun and fitness. Karen lives with her husband Phil, Cal their cat, and Taylor their dog.
---
Jodie Wolf, Our June 2016 Athlete of the Month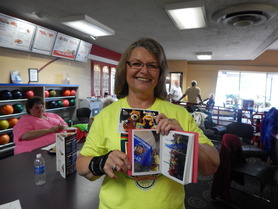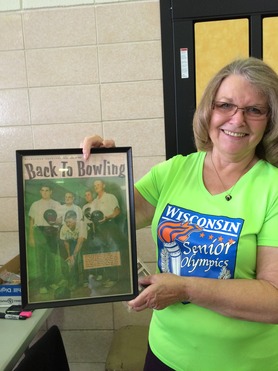 Bowling falls into the category of a "lifetime sport" and it has indeed proven to be that for 71 year old Jodie Wolf of Grafton. Jodie began bowling at her church's bowling alley at about age 10 along with her father who also enjoyed this sport. In fact, a good number of her family members are also frequent visitors to bowling alleys. She often bowls with her daughter and even uses her brother's special bowling ball that is stored in a fiberglass case from another era. Jodie describes the highlight of her bowling career occurring in 1983, when, along with her daughter, she established the Milwaukee Women's Senior Tournament.
Jodie is an active senior, she participates in the "Silver Bells" dance group, bowls one day a week and plays shuffleboard and bocce at the Grafton Senior Center. Three years ago, she was invited by a friend to try the bowling competition at the Wisconsin Senior Olympics. She has enjoyed the annual tournament and in 2014, her performance qualified her to attend the 2015 National Senior Games in Minneapolis.
Her results at the National games were superb with a fifth place finish in the Women's 70-74 age group. Way to go Jodie! Now she is busy preparing for this summer's qualifying year competition. Her high series this year was a 551….. If she keeps bowling those strikes, she will be headed to the 2017 National Senior Games in Birmingham, Alabama.
Along the way, she has coached bowling and played in many leagues. She says that her favorite thing about this sport is the people she meets and all aspects of the social and competitive interactions they have.
Jodie is an enthusiastic supporter of the WSO because of her boundless energy and joy for the games! Watch for details soon. . . Jodie has agreed to be our Volunteer Coordinator as we prepare for the 2016 games just over sixty days away!
---
Melinda Mann, Our May 2016 Athlete of the Month