Humana Heroes - 2016
Humana Heroes seeks to honor an athlete who has made a significant contribution to the WSO through outstanding participation in our state games, the National Senior Games or through volunteerism in our organization. Humana supports people in their daily endeavors to live a healthy life. and is dedicated to creating innovative programs and partnerships that reflect our commitment.
Humana is the presenting sponsor of the 2017 National Senior Games and has been a sponsor of the WSO since 2015.
#StartWithHealthy - Click here for resources from Humana
---
Humana Heroes - September 2016
Pat & Jeff Quezaire . . . A Tennis Duo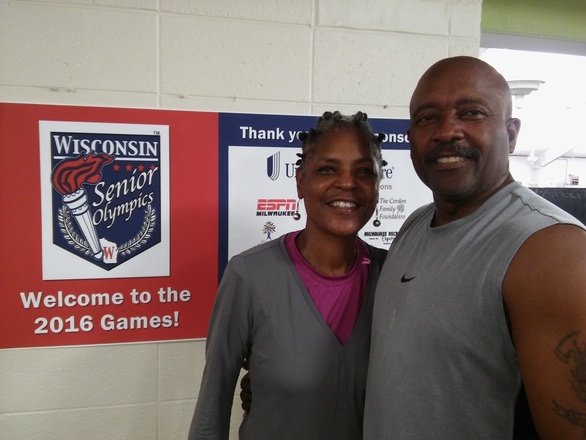 Our 2016 WSO games have drawn to a close and although the state games are over, many of our athletes continue to train in anticipation of the National Senior Games in 2017. Milwaukee residents, and husband and wife, Pat and Jeff Quezaire are already looking forward to making the trip to Birmingham, Alabama.
They will both compete in tennis, Jeff playing singles and then teaming up with Pat for mixed doubles. Jeff, a retired Milwaukee firefighter, and Pat, a retired technology consultant, have been active in Wisconsin Senior Olympics for many years. They originally became aware of the Games through a magazine ad and with a mindset urging them to fight complacency in retirement, decided to give competition and training a chance. Both have had great success in singles, doubles and most recently in mixed doubles.
Jeff, who is 62, played singles in the 2016 WSO games. His 2nd place finish earned him a qualifying spot in the 2017 National Senior Games. Pat, who's doubles partner was not available to play this year, competed in the mixed doubles team of Quezaire/Quezaire, which finished 3rd and also qualified for the NSGA. She also qualified in Women's singles as well.
They look forward to traveling to Alabama and mingling with the wonderful enthusiastic athletes they have encountered in previous games taking place in Cleveland and Minneapolis. Jeff and Pat play tennis 3-4 days per week, monitor their diets and mix in some cardio training in order to ready themselves for competition. They are thankful for the lifetime friends they have met through the sport as well as the physical benefits staying active provides. "We believe in retirement, it is important to stay active. Don't take life too seriously, and remember to have fun."
---
Humana Heroes - August 2016
Kathy Moureau . . . Running the Distance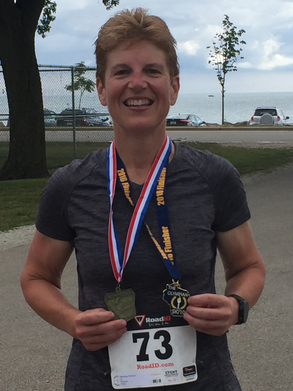 Nearly four years ago, Kathy Moureau, began a weight loss journey not knowing how far her hard work would take her. She lost a staggering total of 130 pounds and along the way became an impressive distance runner.
Her story began with a community run in the Fox River Valley where she resides. Her son extended an invitation for her to join in a 2 mile run/walk for a local charity. Although she walked a good portion of the event, she came away with the feeling that she was "more capable than I thought." This event left her with inspiring thoughts to challenge herself. Her approach to entering more running events began with careful research of all aspects of distance running-everything from diet and recovery strategies to what type of clothing would best suit her.
After drastically changing her eating habits, she now views food as fuel for her body and on a daily basis evaluates what she needs to consume. Her workouts include running 4-5 times per week, with long runs (2-4 hours) occurring on Saturdays and Sundays. In those sessions, she runs trails she has previously mapped out and grinds out 15-30 miles. In addition to running, Kathy, who is 51 years old, works out in the gym doing strength, balance and core workouts 3 times per week. She is a member of two local running clubs and alternates training solo with training alongside family and friends. Her tip for completing such a rigorous schedule is "I PLAN to succeed at my workouts."
In 2015, as a 50-year-old, she became eligible to compete at the Wisconsin Senior Olympics 5K run, which was integrated in the "Tosa Fest 5K run." She enjoyed being inspired by the many runners of all different age groups. Kathy won her age group as a first time Wisconsin Senior Olympian. In August of 2016, she competed in "The Olympian", WSO's inaugural 5K race. Once again, she finished first in the 50-54 age group, impressing herself and other runners with a race that was three minutes faster than her 2015 win!
Kathy continues to challenge herself with goals of running two ultra marathons this fall. Through careful planning and training, she is working towards the goal of running the Ice Age Trail. This 1,100 mile run would require her to complete 35-40 miles per day, but she feels that with proper training, rest and diet, she will be able to conquer this endeavor.
Her skills and knowledge of weight loss and distance running have led her to become a running mentor at Fleet Feet of the Fox River Valley. In addition to that, she is active in the Weight of the Fox Valley which promotes residents of three counties to work together in order to help individuals achieve and maintain healthy weights throughout their life. She hopes to inspire others to achieve their personal goals by finding what you enjoy doing and "finish what you started."
---
Humana Heroes - July 2016
The VMP Senior Softball League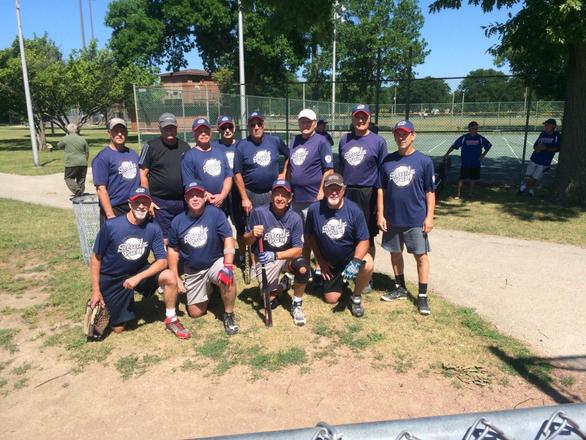 During the summer a Milwaukee senior community gets into summer fun with their very own softball league. The Village at Manor Park is home to the VMP Super Senior Softball League, long coordinated by Poncho Palesse, 93, who is retiring from his role as President this summer.
Many of our WSO softball players come from this league. Palesse explained how all of the players create new teams in their various age groups to compete together in the Wisconsin Senior Olympics. Their goal - get their team to qualify for Nationals if possible!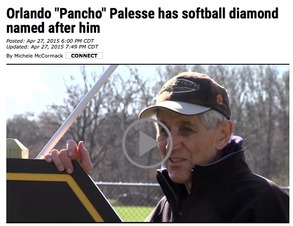 Last year, Paleese was honored by having a local softball diamond named after him in honor of his years of service. Click on the photo to learn more about Pancho. It is a fantastic story to read about his contributions over the years.
Pancho and his players had their last game of the season on Monday. We found out because one of the players in the league called the WSO office with a question about getting golf foursomes together. During that conversation, the player mentioned that he was trying to get his softball team to play golf too. The conversation grew from there and the player agreed to take photos of their teams on their last day together. The teams had fun getting their pictures taken and wondering which team photos would show up in our newsletter!
Well, enjoy the photos and we can't wait to see these guys in their reconfigured WSO softball teams and golf foursomes in just a few short weeks! And, the player who helped make the photos happen? Stay tuned for more details on him - we want to share his story too!
---
Humana Hero - June 2016
Meet Paul Zierk, Jr.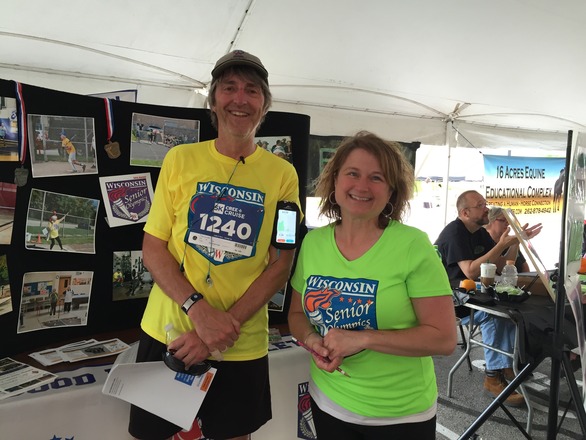 Paul catches up with Executive Director Mollie Bartelt at the Cree Cruise 5K recently sporting his 2015 WSO Shirt and NSGA hat in hopes of recruiting more athletes to compete in our games.
For Paul Zierk, Jr, of Racine, each morning begins with a reminder of his motivation for maintaining a delicate balance of fitness and wellness. Paul is a Type 2 diabetic and upon awakening in the morning, his first task is to check his blood glucose level. As he performs this duty, a quick glance at his wrist reminds him of his inspiration for living his best life. He wears a diabetic alert bracelet and what makes his unique is the inscription he chose - "Every step counts." These three words give Paul strength and guidance and serve as a metaphor for his accomplishments.
As a youth, Paul was a very active "team player" participating in Basketball and Baseball. He has a self admitted "competitive nature." In his 40's, his doctor diagnosed him with Type 2 Diabetes and asked Paul to choose which of 4 medications he would like to use to control his condition. After extensive research, Paul returned to his doctor's office with an alternative plan. He proposed a regime of diet change and exercise for a trial period of three months, his doctor agreed to let him try the medication-free diabetic management and referred him to a dietician. Paul decided to give running a try, purchasing a treadmill after being diagnosed in the winter and began his training by running 1.5 miles a day. That became the launching pad for his very successful 5K race career.
Paul runs about 24 races per year. He is 58 years old and his most recent age group victory was the Cree Cruise run in Racine, which benefits Big Brothers and Big Sisters. Being a multi-sport athlete, he is a big supporter of Wisconsin Senior Olympics and looks forward the annual games. This year, he will be participating in "The Olympian"; WSO's inaugural 5k race which will take place along Racine's lakefront on August 13. In addition to that, Paul is recruiting friends and family to form a basketball team and a softball team to compete in the upcoming WSO games.
He takes his running most seriously however, "I want to run well enough to qualify for my 4th trip to the National Senior Games." The 2017 national games will be held a year from now in Birmingham, Alabama. "I always enjoy going to the games, I have been to 3 previous events." (Houston, Cleveland and Minneapolis). The highlight of his experience at Nationals was a medal winning third place in Houston. In 2015, his son accompanied him to the Minneapolis games. "When I was not racing or training, my son and I had fun exploring the other sporting venues and looking for athletes from Wisconsin we could cheer on and inspire."
Paul is a great example of how a change in lifestyle can improve your overall health and wellness and a reminder to all that "every step counts."