We are proud to have Humana be the sponsor of our Athlete of the Month stories.
Humana Heroes seeks to honor an athlete who has made a significant contribution to the WSO through outstanding participation in our state games, the National Senior Games or through volunteerism in our organization. Humana supports people in their daily endeavors to live a healthy life. and is dedicated to creating innovative programs and partnerships that reflect our commitment.
Humana is the presenting sponsor of the 2017 National Senior Games and has been a sponsor of the WSO since 2015.
#StartWithHealthy - Click here for resources from Humana
---
John White, "Service with a Smile"
Meet Our Humana Hero - Athlete of the Month for November 2017
White is the WSO Board President and was chosen for the National Senior Games' athlete of the month in October. This article was originally written and published on the NSGA website.
John White takes his sports seriously, make no mistake about it. But we've noticed that even in the heat of a triathlon, he's always the one who waves and manages to beam a smile as he makes his way by spectators.
The more you learn about the lifelong Milwaukee resident, the more you appreciate that he wants nothing more than for others to join him in an active lifestyle.
"Wherever I go, I push the agenda to promote the Games," the eight-time National Senior Games athlete says. "Of course, I've found many people who did not play sports in high school and have never competed at anything. They're sedentary. I have learned to take each person for where they're at and promote not only senior sports, but also to get involved in any physical activity because it will be good for their health."
John developed his people skills from (CLICK HERE TO READ MORE ON THE NSGA Website. . . )
---
Jean Landgraf, "Loves Racquet Sports"
Meet Our Humana Hero - Athlete of the Month for October 2017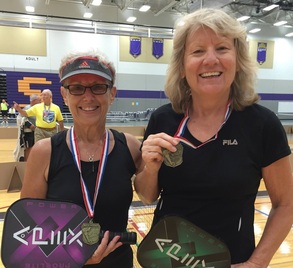 Jean on left with partner Phyllis Hubatch
For those who have played racquet sports, it is a well known fact that having mastered one will give you a definite advantage in endeavoring to learn another.
Jean Landgraf is a perfect example of how easily that transition can occur. This 69 year old grandmother from West Bend first developed a passion for tennis. Due to a shoulder injury, she was told by her doctor to retire her tennis racquet. After being diagnosed with diabetes, she was looking for a way to increase her exercise regime, when she happened upon the game of Pickleball. Played on a smaller court than tennis, this sport is not nearly as hard on the body. Her local YMCA incorporated pickleball courts in 2014 and soon Jean was exercising daily for up to an hour and a half. Along the way, she lost 25 pounds and discovered a new sports passion.
"Retirement is more enjoyable when you are physically fit," states Landgraf. She currently plays pickleball five days a week, and describes the sport as a social activity and exercise all wrapped into one. In addition to that, it is a fun family activity for all generations.The cabin that the family owns in Northern Wisconsin has two pickleball courts that see frequent use.
Her results at the Wisconsin Senior Olympics reflect all the time she has put into training. In 2017, she won doubles and singles and placed second in mixed doubles. She has been a participant in the National Senior Games twice and highly recommends the experience not only for the competition, but also for all the wonderful athletes she has met.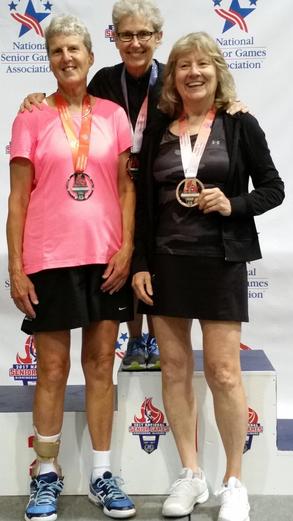 In Birmingham this year, the National Senior Games Pickleball event was competitive. Jean and her partner Phyllis Hubatch won the Bronze Medal in Women's Doubles 65-69. They are pictured in the photo along with Karen Jerg who won the Silver Medal in the same event - making Wisconsin look great! (Phyllis in the back).
As pickleball continues to explode in popularity, Jean touts it as being a year-round activity that is very affordable. She urges seniors to "get active and stay active." After her success at pickleball, she once again picked up another racquet sport at the 2017 Wisconsin Senior Olympics-badminton. Finishing in first place in badminton doubles makes her a two sport gold medal winner.
Thank you Phyllis for sharing your story!
---
Tony Gurdak - Lifelong Competitor
Meet Our Humana Hero - Athlete of the Month for August 2017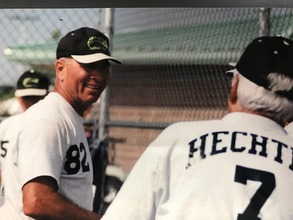 Eighty year old Tony Gurdak has retained his youthful exuberance through lifelong fitness and involvement in sports. This generational inclination towards athletics and competition has touched not only Tony, but also his five children, 16 grandchildren and 12 great grandchildren. In this family, sports are a regimen and a tool to teach motivation.
Tony and his wife split their time between Wisconsin and Florida and no matter what state they are residing in, he has a daily workout regime that he faithfully follows. His training allows him to be ready to play softball or compete in track and field in both scheduled and unscheduled events. He began playing senior softball 20 years ago and has traveled frequently to various competitions. In 2012, he took part in his first Wisconsin Senior Olympics, qualifying for the National Senior Games in Cleveland, Ohio in both Track and Field and Softball. He stresses that the games are "not just about winning, but just competing."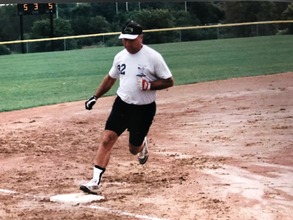 Although he describes himself as highly competitive, he always remembers to put family first. His passion for athletics goes back 50 years when he began refereeing high school and college sports including football and basketball. Having retired from Miller Brewing in 2003, he still continues and enjoys being a referee in Wisconsin, Illinois and Florida, assisting and encouraging youth with their athletic competitions.
Tony's results from last week's Track & Field Competition
100 Meter Dash - Gold Medal - 19.10
200 Meter Dash - Gold Medal - 43.54
Long Jump - Gold Medal - 2.65 m
As a tip to others in training, he offers this advice. "Don't overdo your workouts. If you strive just to maintain, your body will not become stressed and overworked and you will be ready to go at anytime."
---
Judy Grzegorski - A Team Player
Meet Our Humana Hero - Athlete of the Month for July 2017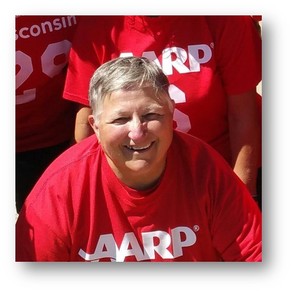 When Judy Grzegorski was a high school student, team sports for girls were nearly non existent. Her passion for softball was fulfilled by joining in with the neighborhood kids, playing on a church team and participating in various municipal rec leagues.
This energetic 68 year old, who is retired from a safety and security management career, recently led both a volleyball and softball team to the National Senior Games in Birmingham. This was the first time Wisconsin Senior Olympics sent a team to the National competition. According to Judy, all members had a wonderful time, competing and meeting new people added to the sense of camaraderie and team spirit. Team members ranged in age from 55-68, which meant that they competed in the 55-59 year age group.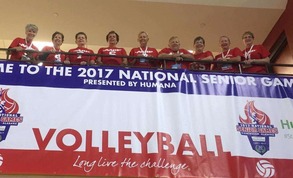 Although they didn't bring home any hardware, the experience was reward enough. A majority of both the volleyball and softball teams consist of the same individuals. Judy is the organizer and leader of the 2 teams. Their sponsor is AARP and the team name is AARP Aardvarks. These women spent time over the winter preparing for the trip to the National Senior Games by participating in various leagues throughout the Milwaukee area and the volleyball team held several of their own practice sessions.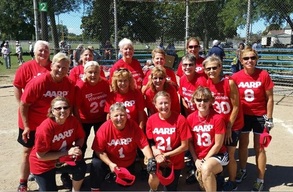 As the summer progresses, both the volleyball and softball teams continue to train for the 2017 Wisconsin Senior Olympics. The volleyball event will take place in Waukesha on September 9th and softball will get underway on September 1st in Brookfield.
---
Edith Schultz - Always Do Your Best
Meet Our Humana Hero - Athlete of the Month for May 2017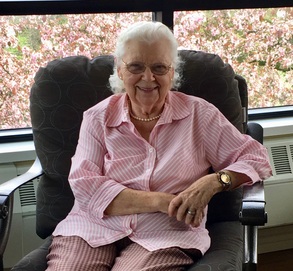 2017 "Hall of Fame" inductee Edith Schultz describes this honor as being a wonderful birthday present. That is high praise for WSO, considering Edith celebrated her 94th birthday last month. She was nominated as novice swimmer who has faithfully competed for the last decade and has an incredible 29 gold medals.
Edith was born in Poland and endured World War II, even spending time in a Russian prisoner of war camp. She met and married an American soldier and they settled in the US in the late 1940's. Her love of the water began during her childhood. At age 10, she taught herself to swim in a lake near her home, and has been swimming ever since, including years spent lifeguarding at a local pool.
She describes herself as being naturally drawn to the water and during her extensive world travels, she has collected numerous photos of herself engaging in water related activities. Her past lineup of events at WSO includes breaststroke, sidestroke and backstroke. Although there are no record categories for novice swimmers, Edith is the sole female swimmer in her age group. She returns year after year to swim these 3 events and receive her gold medals. As an act of generosity, she has given away many of her prized medals to family members and others who she feels deserve "gold medal recognition." Upon presenting the medals, she tells the recipient "Always do your best."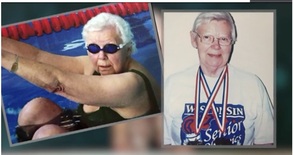 Edith Schultz is a very active and popular member of a retirement community in West Bend. She chose this particular facility because of the large indoor pool available to residents. Several times a week, she can be found swimming laps in the pool which is conveniently located two floors below her apartment. She credits her excellent health to staying active throughout her life, eating well and always trying to do her best.
---
Walter Love - Live & Love By Example
Meet Our Humana Hero - Athlete of the Month for April 2017!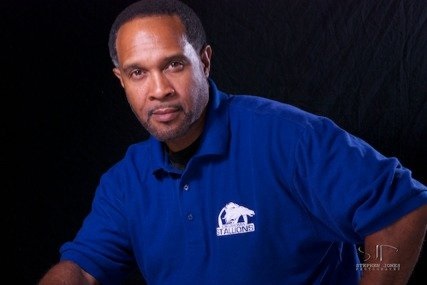 As a "younger" Wisconsin Senior Olympics athlete, Walter Love of Milwaukee has already lived a life full of incredible adventure and opportunity. This energetic 56 year old seems to rise to the top of whatever endeavor he is involved in….whether that is being drafted into a semi-pro football league, working as a TV and radio host across the USA or mentoring youth through midnight basketball leagues.